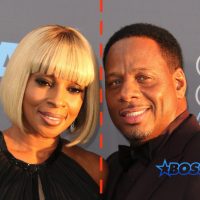 Remember when we told you that Mary J. Blige' was set to speak out on her messy Kendu Isaacs divorce with Angie Martinez?
Well the soul songstress' full interview with her homegirl is out and in it, she's blasting her "mean" estranged husband for his crazy demands.
As previously reported Kendu wants a $110,000 in monthly spousal support, $5,000 a month to support his parents, $4,971 for two children from a past relationship, $1,200 for restaurant dining and $60,000 in rent he owes to several properties.
And according to Mary he's not entitled to ANYTHING from her, and he's just being "unfair."
She also revealed that she made the mistake of making him her "everything"
So what do you think about the amount Kendu is asking for?